E-Commerce WEB
Open your own online shop with us!
In recent years, online purchases have increased significantly. The user, and affordability but also for ease of retrieval of assets, is aimed more at the market online. Many companies, aware of this potential, have created their reality Ecommerce increasing their profits.
An important role in changing consumer habits was played by progressive technological evolution. Furthermore, increased exposure to the daily use of technologies, increases the chances of developing a favorable attitude to the new shopping channels. These aspects, properly used in the Ecommerce world, can increase sales.
For an Online Shop to emerge in the organic results of Google and other search engines, it is essential that you respect the rules of quality and optimization. We offer a complete service analysis, able to ascertain the problems that block the position at the head of the search results.
In the management of e commerce, particular importance is represented by the products sold. Through careful analysis of the market, targeted to times of the year, appropriate images and text, it will determine how successful the store or their flattening. We study together with you these potentials.
In Italy the tendency to buy online, is growing day by day but, all users who buy online, fearing fraud Payment and theft of sensitive data. For this reason we employ partnerships with leading businesses in the electronics industry: Banca Sella, PayPal and Poste safe. We put all transactions on computer servers in secure connection (https).
Our work does not stop at simple realization. After the supply and testing of the order, our staff is at your disposal for any problem or need may arise. Our support will identify the problems and will find solutions to the problems identified.
E-COM
Sport
Shop selling equipment for water sports. Technology and responsive visualization algorithms with AJAX. Update automatic warehouse through prevamento direct data coming from the store real.
Website
E-COM
Winery
Wine shop products particularly sought after and hard to find in classic wine. Products managed by the user through a simple graphical interface with CMS (Content Management System) opensurce.
Website
E-COM
Wearing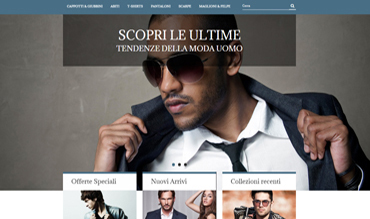 Company productions of tailored clothing when ordered. Products in line with the greatest designers in the world such as Armani, Versace, Cavalli but fully adapted to customer needs. Ecommerce for companies (B2B).
Website